The Meiss Family
One claim is that the surname Meiss comes from a German word meaing 'felling area', 'felled timber', another is that the name is related to Maus, indicating a mouse catcher or perhaps someone resembling a mouse.
The name Meiß (note: the German letter ß is pronounced as a combination of the letters s and z) is the diminutive form of the old germanic name Mago which in turn is from the gothic "magan", meaning to like. According to Paul Gründel, a heraldist in Dresden in the 1920s, the oldest historic papers show the first appearance of the name Meis in 1170/96 by a Jacob Meis who was at that time in St. Gallen and Zurich in Switzerland.
In 1216, landowner Heinrich Meys was in the council in Zurich. Another landowner, Walter Meys, was in war with the convent in Oettenbach in 1294. By 1571, a Meyssen owned a mill. As a captain of a company footsoldiers in Zurich, landowner Heinrich Meyss went in 1685 to Strasbourg, France.
My branch of the family pronounces the name with a long 'e' sound, in the French manner. My grandfather always said that our ancestors came from Alsace-Lorraine when it was under French rule.
---
Meisses on the Web:
---
Related Names
---
Places Named after Meisses
---
Meiss Family Arms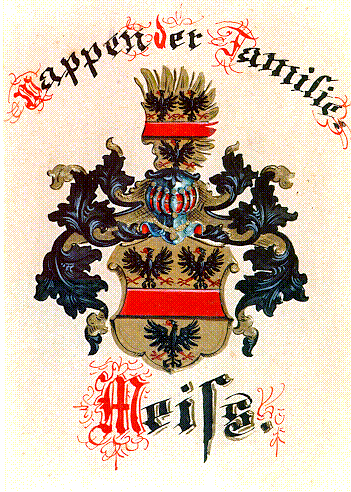 I got this from Bernd-Christian Meiss in Rastede, Germany, who tells me that there are many Meisses there. I have no idea of the meaning or significance of the symbols here. Anyone who does know, do let me know:
---
last updated 5/27/21