Mathematical Visualization Toolkit

Brought to you by The Department of Applied Mathematics
A Brief History of MVT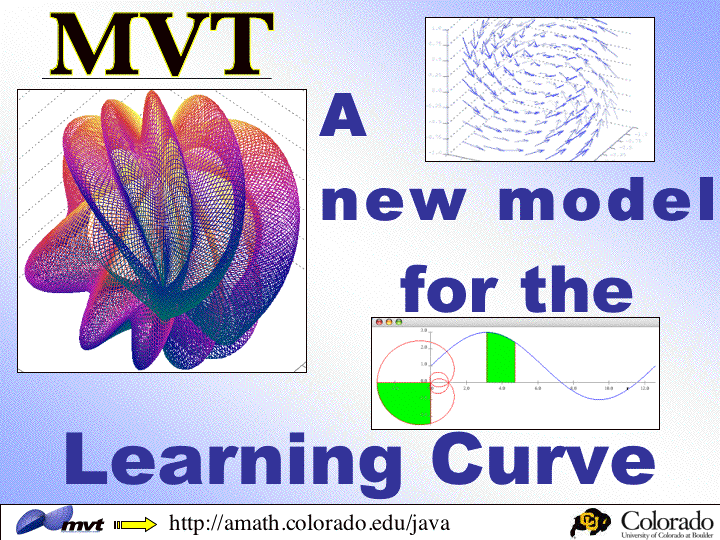 How It All Began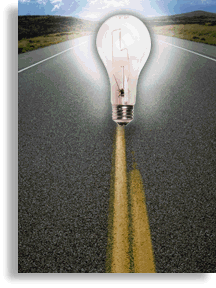 The Applied Mathematics Department at CU Boulder felt that there was not a good program to simulate visual learning of Calculus and Differential Equations for their students. The department used traditional mathematical software packages which were not targeted towards K-12 and lower division mathematics. These softwares required a basic understanding of programming, had expensive licensing fees and required local installations. Thus the Mathematical Visualization Toolkit, better known to you and I as MVT, became the department's new model for the learning curve.
In the summer of 1998 at the University of Colorado at Boulder, the Applied Mathematics Department (APPM) began the project of MVT under the leadership of Department Chair Dr. James H. Curry and by the people at SUN Educational Services. MVT has been developed exclusively by University of Colorado at Boulder students. All of its source code is platform independent and written using web-based Java technologies.
Original designers wanted to use the visual power of the computer to enhance learning in mathematical science classrooms with the hopes of creating software tools that were easy to use and could be vertically integrated into several courses. MVT also provided students the opportunities to incorporate their software design, numerical analysis, and programming skills in a challenging and professional environment. The first efforts began with several Java applets related to graphing and Differential Equations. It was after this illustrious beginning that the relationship with Sun Educational Services was created and Associate Chair Dr. Anne Dougherty of the APPM department joined the group.

What is MVT?
MVT is a set of visual and computational tools designed to help students better visualize the concepts of Calculus. It contains:
Scientific calculator
Plotting tools
Numerical tools
Linear algebra tools
Differential equations tools
Content-specific applications
Other Calculus visualization tools
Tutorial-style help system
These intuitive tools are what make MVT unique and useful in educational settings.

Building on the Idea

MVT continues to grow and expand every year to include more tools and applications. Dozens of students, both undergraduate and graduate have collaborated with Sun Microsystems and APPM faculty to make MVT what it is today.




Where It Is Today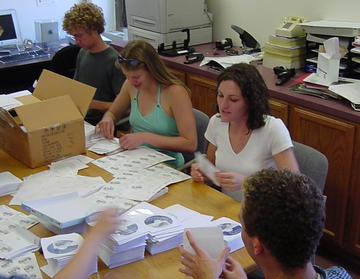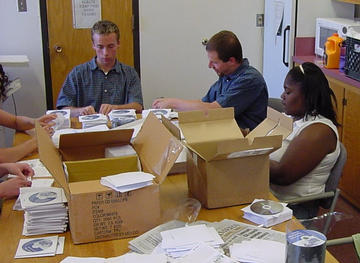 Since this illustrious beginning MVT has expanded to include upper-division Calculus and linear algebra tools. After many hours of work under extreme conditions the MVT crew, with the help of some others, was able to package its first set of MVT CD's. The 1000 CD's have been distributed to teachers and students on the CU campus, in the Denver-Metro area and nationally.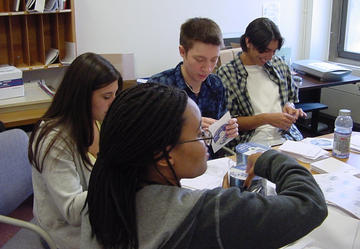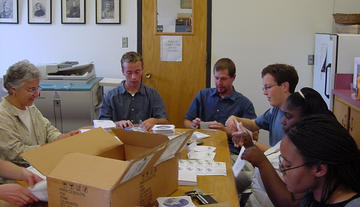 We get by with a little help from our friends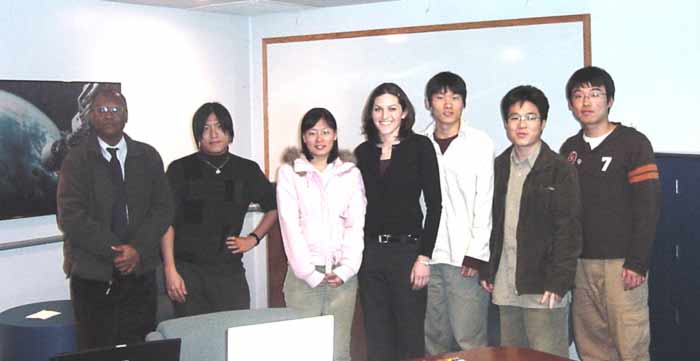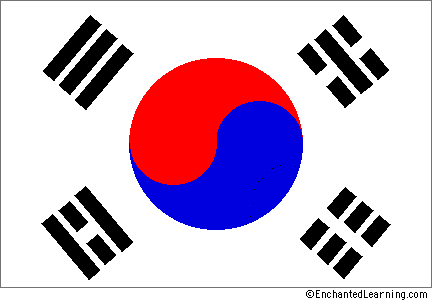 In the spring semester of 2004, the Applied Math Department employed the help of five brilliant Sun student interns from South Korea. The students contributed some novel visualization ideas, assisted in the design and redesign of new MVT features, and learned a thing or two about snowboarding in Colorado. Click here for more details.



This student-exchange collaboration warrants a huge thank you to the helpful folks at Sun Microsystems. Thank you Paul Nelson, Dave Nelson and other supporters.




The Next Steps

We put out our newest version of MVT before the fall semester, usually late August, annually. One hope for the future is to get MVT included with a Calculus textbook so that students across the country can benefit from what it offers. We also hope to reach a great amount of teachers so that MVT expands into one of the premier teaching aids in math.



Involvement, Awards and Recognitions





We would like to thank the following


The Department of Applied Mathematics at the University of Colorado, Boulder:
Faculty Sponsors


Sun Microsystems
Sun Educational Services

J.R. Woodhull/Logicon Teaching Professorship in Applied Mathematics

MVT Developers
Jay Jones
Sarah Macumber
Tom Josephson
Geoffrey Sanders
Brandon Booth
Joseph Carrafa
Mike Watson
Patrick Simek
Stefan Wild
Dan Kanopka
Aron Kirshner
Eric Wright
Ryan Girard
Phil Kent
Darin Gillis
Dan Cooley
Erin Rowland
Peter Staab
MVT copyright &copy 1999-2008 by the Department of Applied Mathematics,
University of Colorado at Boulder. All rights reserved.